NTE – Falcon Metro/Train HUB – 8 Metro & 5 Train Platforms – Energetically Autonomous + 10 MW production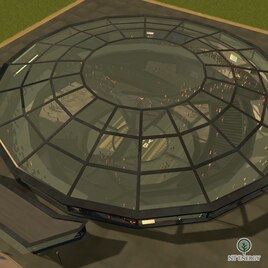 Author:
spinoza73
Last revision:
28 Dec at 04:43 2018 UTC
Description:
NTE – Falcon Metro/Train HUB an efficient metro/train HUB more design with 8 metro and 5 train platforms available. The centerpiece of the Falcon public transport collection. See your citizens commuting like never before! If you were wondering what is the link between all the pieces in the Falcon public transport collection, here it is!
It's also an energetically autonomous one! Perfect for a new development! Produces 10 MW of alternative energy electricity thanks to its thermal base and a small geothermal station for its own heating and air conditioning. Can meet the electrical demand of a few buildings, but is not designed to power an entire city.
Very fun to watch them commuting! Almost hypnotizing… can you resist? 😉 See the video to see it in action and watch by yourself that crazy experiment: https://youtu.be/V7z1vJwPqcg
– 8 Metro/Subway Platforms (16 lines) on 2 levels, respectively at 4 and 12 meters depth
– 5 Train platforms (10 lines) at 36 meters depth
– 14136 tris – Highly detailed
– 174 tris for the lod – High performance
– 12X12 square
– Transparent & reflective glass
Workers:
– 75 uneducated workers
– 120 educated workers
– 30 well educated workers
– 15 highly educated workers
– Construction Cost: 100K
– Maintenance Cost: 1600/week
– Noise Pollution 50
– Noise Radius: 50
See the last two pictures for the platforms configuration. You will find the asset in the metro tab.
I leaved the outside without any decoration, so you can style it in a way that fit your city look 🙂
Tips: Make sure your railroad connections to the HUB end in square ends (like in the last picture) and not in rounded ends. Otherwise, it means that the connection is not made. This is one of the quirks of Sunken type stations (buried in the ground, but that can be seen from the surface) and it is sometimes necessary to do more than once to properly connect.
Stay Tuned! Coming soon: A full integration in a modular way of the Falcon Bus Station, Blimp/bus Station & Metro Train HUB!!
See all my energy & transport related assets and don't miss a release of my creation by subscribing: https://steamcommunity.com/profiles/76561198121031096/myworkshopfiles/?appid=255710
* Interested in supporting my creations? A little something always cheers up 🙂
Donate with Paypal[www.paypal.com]