Two-Lane Road with Turn and Bike Lanes (Green)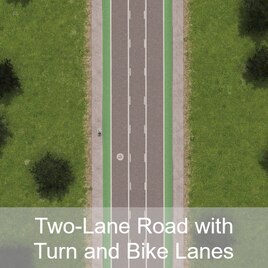 Author:
Cgameworld
Last revision:
27 Dec at 10:10 2018 UTC
Description:
A two-lane road with a dedicated median turn lane and bike lanes (green bike lane version).
Bus stops are supported. Ground level only.
A subscription to the small bike lane decal pack is required for bike arrows to show up on the bike lanes.
Plain version here
Be sure to subscribe to my bike crossing decals for increased realism at intersections
If you like this road be sure to leave a vote! Thanks