German Rowhouse 1 | Trier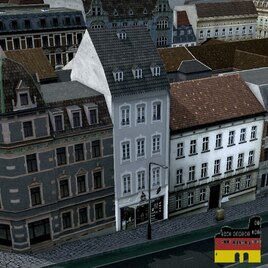 Description:
Disclaimer: This is my third asset and i highly recommend using
Painter
Mod because the asset is too dark cause its hard to predict how the assets look ingame when you do it in Asset Editor also the Mod is good in total because you can save
overlightet/dark assets.
This Building is located on the Marketplace in the oldest City in Germany Trier other then the Copenhagen series i made i actually been there a couple of times meaning i kinda know how it looks
I will continue this Series over Time and for the People waiting for my Copenhagen series there is more to come i generally wonna bring light to places having little to no custom assets.
-Textures: 2048×2048, 256×256 LOD texture
-LUT: Realistic LUT V1.2
-Map Theme: SCT-HOMECOMING with some other textures in Theme mixer
Official Discord Server: https://discord.gg/nsUE2Cn
Trier Series by DasBirnenDing.