[Eye Candy] ERP Toll Gantry (Large, 2-Way, RHD)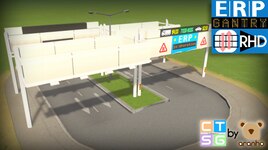 Author:
aranbear
Last revision:
14 Feb at 10:14 2016 UTC
Description:
NOTE
This ERP Gantry asset is a NON-FUNCTIONAL, EYE CANDY toll booth and does not generate any income. Instead, it functions as a non-generating power asset. It can be use to link up power grids in your city, yet allowing traffic to drive through. Nice ay? 😀
Click here for the functional version.
~~~~
Ah, the infamous ERP. The electronic toll system that every Singaporeans love to hate. Using the open road toll method, it is a way for the Singapore Government to tackle the road congestion issue. Another infamous method, the Certificate of Entitlement (COE), where you will need to purchase a piece of paper in order to own a car for 10 years, arguably costing about same price as a typical car in Singapore (which is easily S$40,000++). Yay Singapore…
Basic info
Category: Power
Cost: 5000
Maintenance: 1500
Tris: 1448
Texture: 1024 x 1024
Now, I know that there are different types of roads available in-game (more so if you use the Network Extensions mod or other similar stuff). As such, to simplify the number of models, I've catered to roads 2 tiles or 4 tiles wide, plus one-direction/bi-direction and RHD/LHD.
Should you wish, you can change the roads via the Asset Editor to the road of your choice.
Access the other versions, including the Functional versions, from this collection: ERP Toll Gantry
About the ERP
The Electronic Road Pricing (ERP) is an electronic toll collection scheme adopted in Singapore to manage traffic by way of road pricing. The ERP was implemented in September 1998, replacing the Singapore Area Licensing Scheme, the first urban traffic congestion pricing scheme to be sucessfully implemented in the world. Read more about ERP on Singapore's Land Transport Authority[www.lta.gov.sg] and on Wikipedia[en.wikipedia.org].