Slurry Pulp and Paper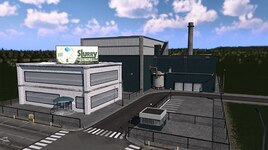 Author:
220hertz
Last revision:
11 Dec at 18:08 2018 UTC
Description:
This is a straight-up replacement for the pulp mill introduced in the Industries DLC. Stats are identical. As such, it does require that DLC. It's a late-ish game asset. If you're not using an unlock-all mod, you'll need a level 5 forestry industrial district to plop this. If you're dedicated, you can get to that level somewhere near the Big TownSmall City milestones, but probably not much before.
For me, it's easily the most involved thing I've ever built for the game, probably not for everyone – but, like a splinter, I really had to get it out of my system.
Footprint is 8×16. For detailers and those who use anarchy, the fence surrounding the building will allow for a small road to enter cleanly at the front and then crook off to the right to a side gate. I was going to include a segment of road in the asset itself, but it makes it trickier to plop. You can see this in some of the screenshots.
I have uploaded all the files I used to create this. You can find them here[drive.google.com] There are nearly 200 images and mesh files that make up the asset proper, which is why the download size is what it is. I've included layered .psd files used to create the textures, as well as the .blend file with all of the meshes, if you want to have a look at them.
Textures for each individual part of the mill are either 512×512 or 1024×1024, and 128×128 for the lod textures.
Geometry-wise, all of the detailed mesh pieces come in just shy of 19,000 tris, split over the 13 or so parts of the building. Each lod mesh has no more than about 140 tris.
Conversely, the DLC mill uses ~33,500 tris, about 1,250 for the lod mesh – and appears to have just the one 1024×1024 texture.
If you find that this asset does not function correctly as an Industries DLC pulp mill, please let me know and I'll fix it.
Thanks again!
Update 12/11/18: I've replaced the submeshes used with sub-buildings, added several props and fixed up a few textures that were incorrectly rotated. I've also removed the makeshift collision mesh which I was using as a base to attach earlier props. Thanks to Maximilian for making these suggestions. The asset functions how I was hoping it would now.