The Lagoon Paradise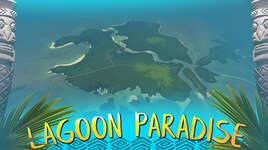 Author:
Double V
Last revision:
2 Jan at 05:54 UTC
Description:
After many hours on it, there it is, The Lagoon Paradise island ! JUST FOR YOU 🙂
I was inspired by the south pacific islands to create this map.
** Description
The objective was to make the site attractive for tourism.
There is 4 spot sculpted by the water, the wind and the time, for high-quality tourist areas :
– Wadra bay : a large bay with secreted beaches
– The mystic river : narrow canyons with clear water
– Love islands : a heart engraved in the rock, and 6 tiny islands.
– Blue lagoon river : a large river with white sand.
** Information
-Make sure to have the tropical theme map "Just tropical".
– No worry if tunnels entrances seems to be blocked. Just buy the tiles where is located the entrence, and that graphic bug disapear at the same time. ( Tunnels works perfectly well )
– Color correction used for the pictures : "Tropical" ( LUT included with the game )
**
Special thanks to " MrMaison" with his item collection.
**
Thank's to you if you subcribe to it, and sorry for my english 😛
Do not hesitate to feedback, and please eveluate the map… I'd like your comment on that.
Enjoy!