1940s Portland, OR -Vanilla-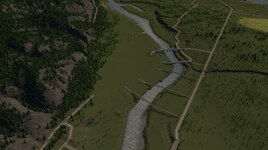 Author:
Dogahn
Last revision:
27 Dec at 06:14 2018 UTC
Description:
This is a map of Portland, OR prior to the construction of the Interstates.
Get the Modded DLC version here: https://steamcommunity.com/sharedfiles/filedetails/?id=1611525617
It has better details, and is relatively mod light using things most of us are using anyway.
Vanilla Edition:
-No mods required (this also means you won't be able to fix a lot of things if they break)
Features:
-Functional river flow.
-All the bridges prior to Interstates.
-State Highways, including those that act more like roads.
-Purchaseable area ranges from Raleigh Hills in the W, Swan Island in the N, 162 to the E, and Lake Oswego in the S.
-Small town grids outside of purchaseable area to liven up the place.
-Oil patch, about where the Shell Oil Co is.
-Lots of Railroad.
-Lots of Trees.