Grun Hugel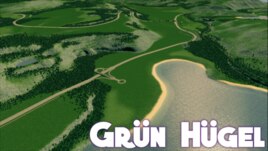 Description:
Grun Hugel (Green Hill) Is a small area situated between two large Germain cities. It's a hilly terrain ideal for small to medium sized towns and cities. There are 3 highway connections, 4 railway connections, as well as shipping and airline connections.
In the screenshots I used Cedar 4k with Evergreen LUT. I would suggest purchasing all 27 tiles because the starting tile is fairly small and awkward.
Let me know if you have any issues or feedback.
Cheers!