Italian Style Highway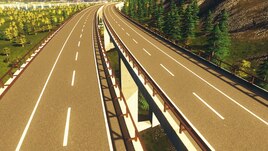 Author:
LeoK.
Last revision:
25 Nov at 08:15 2018 UTC
Description:
Description
=========
– italian style highway
– highway 2 oneway lanes with crash barriers
– highway ramp 1 oneway lane with crash barriers
– no zoning
– use at your own risk – no guarantees
– could cost performance because of the crash barrier
– rendered vehicles inside tunnels
– LeoK.'s "italian style highway signs" definitly needed
PLEASE NOTE
============
Highway start and end signs are (without transition) only shown by going in and out two directional, that means for example going in with my "small highway 2 one way lanes" is not going to create the highway start signs. I tried but got no solution. Hints welcome!