512-514 Broadway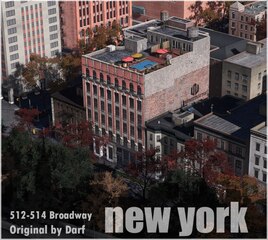 Author:
Darf
Last revision:
6 Jan at 01:40 UTC
Description:
Please leave a vote or comment if you download this asset! This is a lvl 2 High commerical 3×4 growable based on 512-514 in New York in Soho.
About the model
A new model from my Soho, Noho and Nolita series. This model has about 4481 tris and a 2048×512 texture. Normal mapped, alpha, illuminationmap and specularmapped.
LoD is around 50 tris , 512×128.
You can always follow my assetcreations on the Simtropolis forums: http://community.simtropolis.com/forums/topic/68841-darfs-buildings-the-dorilton-new-victory-theater/ or on sketchfab: https://sketchfab.com/sannie01
RICO
This building is RICO ready, enable it in the settings menu.
About the building
6-story residential building completed in 1882. Designed by Lamb & Wheeler as a store with a red brick and terra-cotta facade, its thick piers are of rough stone up through the 2nd floor, and red brick with small stone quoins above that. The spandrels between floors are decorated with carved terra-cotta panels. The 5th-floor windows have splayed lintels with keystones connected by a cornice. The top-floor windows are round-arched, with tall keystones extending up through the roof parapet.
The ground floor is occupied by Allsaints Spitalfields and Guess by Marciano on Broadway. The Crosby Street frontage (56-66 Crosby) is much longer, spanning 18 bays as opposed to only eight on Broadway, and is clad in red brick with a simpler window pattern of rectangular openings with stone sills and lintels. Two black iron fire escapes run down this facade, the southern one being more ornate, with rounded corners on both ends of the landings, rather than the one side on the northern fire escape. The ground floor is occupied by All Saints Co. apparel, Soho Integrative Health/The Mezzanine Spa, Valcucine furnishings, and DOM NY furniture & fixtures.
Changes
–