NTE – Helios2 Solar Tower – 560 MW Electricity & 320 MW Heating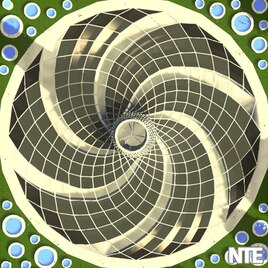 Author:
spinoza73
Last revision:
1 Jan at 21:52 UTC
Description:
The Helios2, an energy monster delivering 560 MW of electricity and 320 MW of heating. Compared to the first Helios, the tower's air intakes have been remodeled to improve pressure by doubling the cooling corridors (in white). A gigantic geothermal power plant is housed within it, in the basement, reducing noise pollution! Same about the heating geothermal station. Going all green have never been so easy!
Its spiral-shaped design allows air to be heated in the dark channels, while the 6 white corridors charged with colder air act on the pressure of the tower thus naturally raising the air. If the slightest pressure weakens, the geothermal station comes to the rescue, whether for a need of hot or cold air.
All this in addition to a beautiful and functional plaza with basins of water heated by the geothermal power station in winter and cooled in summer! Your citizens and tourists will love! It's a real attraction in a city. See your citizens come to relax in the pools or just hang around the tower to admire and have a good time with their friends and family.
– 18774 tris (Plaza & Tower) – Highly detailed
– 364 tris for the lod (Plaza & Tower) – High performance
– 12X12 square
– 560 MW of electricity
– 320 MW of heating
– Transparent & reflective glass
50% less noisy and zero pollution…
– Noise Accumulation: 25
– Noise Radius: 50
Tourists:
– 100 Low
– 100 Medium
– 100 High wealth Tourists
– 150 Entertainment Accumulation
– 450 Entertainment Radius
Workers for the Helios2 solar tower, Plaza and Heating plant:
– 100 uneducated workers
– 130 educated workers
– 70 well educated workers
– 15 highly educated workers
– Construction Cost Total: 200K
– Maintenance Cost: 3200/week
– Clean & autonomous from water, it takes care of it's own water waste and water consumption
– No need for Green Cities to use it only for the electricity
– Find it in the Electricity tab in game
Stay Tuned! Coming soon:
– A full integration in a modular way of the Falcon Bus Station, Blimp/bus Station & Metro Train HUB!!
– A new generation of incinerator: https://steamcommunity.com/sharedfiles/filedetails/?id=1610432639
See all my energy & transport related assets and don't miss a release of my creation by subscribing: https://steamcommunity.com/profiles/76561198121031096/myworkshopfiles/?appid=255710
* Interested in supporting my creations? A little something always cheers up 🙂
Donate with Paypal[www.paypal.com]