Airbus A319-132 Scandinavian Airlines (SAS)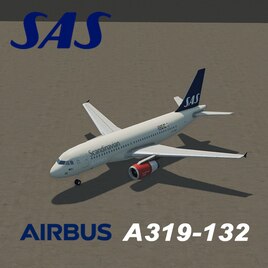 Author:
KriZ
Last revision:
9 Jan at 23:08 UTC
Description:
Information
This is a pack of both vehicle and prop.

A320 Family is the first to feature the all new A320 by Bsquiklehausen.
Scandinavian Airlines System, SAS is an airline holding company headquartered in Sweden. SAS Group is partially owned by the governments of Sweden, Denmark, and Norway, with a 21.4%, 14.3%, and 14.3% ownership, respectively. The remaining 50% is held by private owners.
Aircraft is OY-KBT, delivered in October 2007. To be faced out by A320neo
Credits
Original model by bsquiklehausen.
You can find bsquiklehausen's workshop here.
Scandinavian Airlines A319-132
Seating configuration: 150 seats
Model: 2122
Textures: 1024×1024
[www.patreon.com]