[DLC | Warehouse] CIMEx 2002 Step Van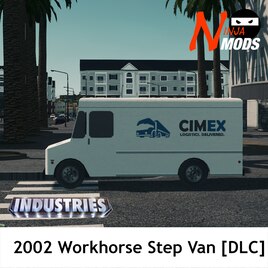 Description:
Classic Truck for Carrying Unique Products
This good ole truck is great at doing its job of shuffling goods to and from warehouses. This simple, colorable van comes in a modern styled livery, with colors in the text and logo derived from Fedex!
For those of you who don't know, box vans and step vans are usually made from common chassis. For box van, they append the box to the rear. For the step van, they discard the cab and build the whole back up from the chassis.
Related Vehicles
[www.paypal.com]
Model Information
562 Tris
1024 x 1024 Texture
Stats are same as the default delivery truck. Use Advanced Vehicle Options Mod to change it to fit your needs.
Vehicle based off of False Lucidity's Step Van. Used with Permission, Retextured lights to resemble classic step van setup, as well as minor change in overall textures.