Multi-tenant Building (2type-5colors) / 雑居ビル(2種類5色)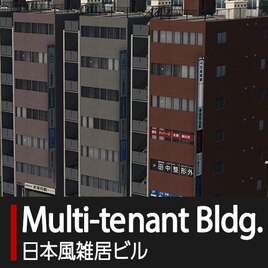 Description:
Multi-tenant building in Japan what is called "Zakkyo-buil / 雑居ビル".
This is so boring building that it can be placed anywhere.
This pack contains 2 models:
– Simple and 4 colors
– Decorated and 1 color
Subscribe now to make typical boring common cities in Japan!
Grow-able Buildings: Commercial High-density, Level 3
Tris: 2142( LOD: 28)
Textures: 1024×1024(d/s/n/i/a) LOD: 256×256
Support my work on PayPal !
Donate: https://www.paypal.me/kaminogi
—–
驚くほど無個性で、どこにでも馴染む雑居ビルのアセットが登場です。
シンプルな4色カラーバリエーション版と看板ありの一色版の二種類が同梱。
今すぐサブスクライブし、どこにでもある地味な街並みを作りましょう!
高密度商業区画レベル3として建ちます。
Tris: 2142( LOD: 28)
Textures: 1024×1024(d/s/n/i/a) LOD: 256×256
私のやる気は皆様のご寄付により支えられております。
https://ofuse.me/#users/7468
Amazonギフト券は steam<at>kaminogi.jp まで