Urban Reframe (1×4 residential RICO)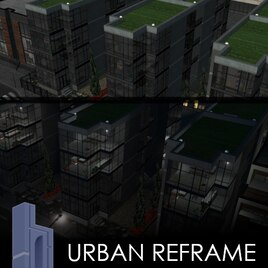 Author:
honker
Last revision:
8 Feb at 20:23 UTC
Description:
After making the Stupid Condos and Stupid Duplexes, it's time for something much more advanced – and possibly even stupider. Presenting the Urban Reframe, a 1×4 "shotgun" style rowhouse with semi-transparent glass, realistic lighting (no illumination map included, only lit with in-game lights!) and props as furniture inside on each level of this four story set of apartments.
It's not perfect, but it's a proof of concept. More to come.
Props included are by King Leno and Mic Crosshill. No need to subscribe to additional items, they're included.
Oh, and a bunch of mods were used to take these screenshots – your mileage may vary!
Triangles:
1,972 / 34 LOD
Textures:
512×512 (diffuse, specular, normal, alpha)
64×64 LOD
Lot Size:
1 x 4 x 12m
RICO Ready – level 5 high residential
Like it if you like it.
consider a small donation on
Paypal
[www.paypal.me]
request an asset at honker3d(at)gmail(.)com
Become my PATRON[www.patreon.com] for exclusive behind-the-scenes looks at projects and to vote on what to make next!
(special thanks to my patrons donoteat, bsquiklehausen, NineLeafClover, and NLC!)