MAN Lion's City 2018 10G: Generic (Natural Gas)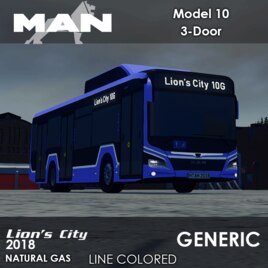 Author:
REV0
Last revision:
20 Dec at 14:51 2018 UTC
Description:
Model 10-3 Door variant: Natural Gas, Generic – 45 passengers
The MAN Lion's City is a range of low-floor and low-entry public buses built by German truck and bus manufacturer MAN Truck & Bus (previously MAN Nutzfahrzeuge) since 1996 primarily for the European market, but is also available in chassis-only variants worldwide. The name Lion's City has been used since 2004, when MAN's public bus models which had been marketed separately were gathered into one range, when also most models received a facelift.
As a part of collections:
Will be added later
Technical Details
FULL BODY LINE COLOR: Entire body changes color with respect to lines
Magically optimized: Shares textures with other generic variants, increasing performance.
45 passengers
140kmh
Custom LOD
2.8K tris (average Workshop bus)
V2.0: New headlights
V2.0: Side lights, turnlights, rearlights
Recommended Mods
Downvote Fairy
There is a downvote fairy in workshop, who is downvoting every vehicle asset that gets released not done by him. If you like this model, make sure to upvote it.
Acknowledgements
Project is sponsored by Johnny. Special thanks to the community for their help about articulation joint.
Keywords for Workshop search: Germany, MAN, Lions, Lion's, City, bus, generic, model, 10, 2018, low-floor, natural, gas, cng, ng