Amsterdam Buildings Type 2 (pack of 2)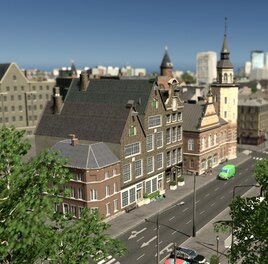 Author:
Lennep
Last revision:
9 Feb at 19:58 UTC
Description:
Another pack of two residential buildings (level 3) typical of the buildings found in Amsterdam and much of Northern Europe. This time featuring a tuitgevel ('spout gable') with limited decorative features. Originally built as a warehouse and loosely based on a building in the Zeeheldenbuurt in Amsterdam.
The two buildings are essentially identical, except that one has an extra floor for some variety in building height.
Both buildings also use exactly the same texture files, so if you're using the Loading Screen Mod, these will only be loaded by the game once, saving your PC some RAM for other things… The texture maps used are 512×512, more than sufficient for these 1×3 buildings, and this also helps keep the file sizes low.
You can use the Painter mod to change the roof colour, if you so desire.
And as always, MoveIt is also recommended so you can line your buildings up in a row.
The first pack of two is available here:
https://steamcommunity.com/sharedfiles/filedetails/?id=1644085728