River Rocks Decal Pack / 河原の石デカール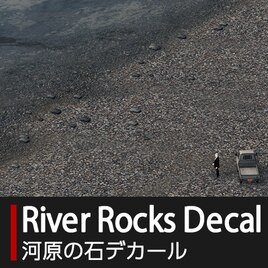 Description:
This is a decal pack of river rocks.
I've worked hard to make Japanese river-side in the game, but I couldn't feel Japan using existing assets. Also, placing a large amount of stone assets makes the game slow, so I created this.
Recommended when you want to quickly make riverbanks.
It's good for beach as well.
There are 3 colors in the pack, so you can use it as gradations such as underwater ~ waterfront ~ ground.
– Known issues
* disappearing when we are away from the decals ( no way to fix )
* flicking when we place them roughly ( place them carefully in the game )
I will add variations updating this item if necessary.
Textures: 1024×1024
Size: 16m x 16m
Support my work on PayPal !
Donate: https://www.paypal.me/kaminogi
—–
河原の石たちを再現したデカールです。
既存のアセットだと日本の川らしい雰囲気が出ない上、石アセットを大量に配置するとゲームがかなり重たくなってしまうため、デカールとして作成しました。
手っ取り早く河原を作りたいときにおすすめです。浜辺にも良いかもしれません。
三色同梱してあるため、水中~水際~地面などでグラデーションさせて使うことができます。
▼既知の問題
・遠くに離れるとデカールが消える(ゲームの仕様)
・雑に重ねて配置すると点滅する(ゲームの仕様なので、重ならないように配置しましょう)
※必要に応じてこのアセットをアップデート予定です。
Textures: 1024×1024
Size: 16m x 16m
私のやる気は皆様のご寄付により支えられております。
https://ofuse.me/#users/7468
Amazonギフト券は steam<at>kaminogi.jp まで