European Bike Paths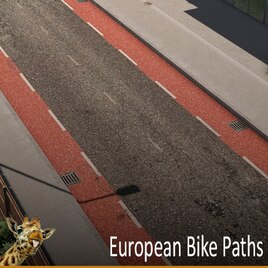 Author:
sebnichols
Last revision:
15 Mar at 16:59 UTC
Description:
📖 Basic Information:
This is set of two functional Dutch-style bike networks.
Click here for Vanilla-style ones.
Direction
Width
Elevations
1 way
2 meters
Ground, Bridge
The bridge elevations are actually sunken, so they can be used as either bike lanes or bike crossings. The GIFs below show you how to do this.
The small width of the networks come with some game related problems. This is because the networks were never designed to be this thin.
It is highly recommended you use a theme which does not have grass sprites or use this mod to remove them, otherwise they may show throw the bike paths.
You may encounter some terrain issues while using these networks; the best thing do to if you have major problems is delete and redraw them.
With the 1 way bike path, you cannot see the direction when in the landscaping panel, you have to switch to the road panel to see the directions. If you want to change them you have to go back to the landscaping panel and right click them with the upgrade tool.
Please give feedback in the comments section, and consider giving this asset a positive rating if you did enjoy using it.
❔ How to use:
The GIF below demonstrates how to add crossings:


It is highly recommended that you only make crossings on flat ground or next to junctions.
The GIF below demonstrates how to add custom bike lanes:

🐛 Known Bugs:
💷 Donations:
I will never release assets behind a paywall, all my work is done in my spare time and is free to use. If you are feeling generous you can always give me a small donation.
[paypal.me]
❕ Remember:
Read the description before asking questions and if you still need help, leave a comment. Do not modify/re-upload my work without my permission. You can leave requests but I will only work on ones which I like or have the time to do.