JR East E259 Series N'EX (6 Car)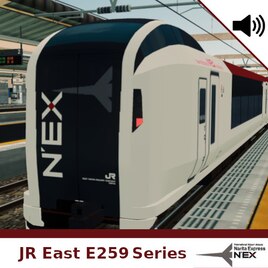 Author:
InHailt
Last revision:
15 Mar at 14:02 UTC
Description:
Features: Sound and light effects! compatible for vanilla!
—> 12 Car version <—
Important
This asset can be used without additive shaders, however it enhances the experience. I highly
recommend using it.
This train has different accelaration and braking values than vanilla.
If you wish to change this you can use this mod:
https://steamcommunity.com/sharedfiles/filedetails/?id=442167376
Technical details
Texture size = 1024×1024
LOD texture = 128×128
Vmax = 65 km/h (130 km/h real life)
Capacity = 292 passengers
Background
The E259 series is a DC electric multiple unit train
type operated by East Japan Railway Company in Japan
since October 2009 on Narita Express limited express services
to and from Narita International Airport. [Source: Wikipedia]
Shout outs
Thanks to JenperTC for the screenshots!
I hope you will enjoy this asset. This is my thanks to all the
creators who make awesome assets. If you enjoy this asset
please rate it up. I might consider making more in the future!
Prop and 12 car version comming soon!