深圳北铁路枢纽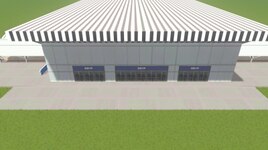 Author:
KEL
Last revision:
4 Jan at 13:56 UTC
Description:
深圳北铁路枢纽 by KEL
广深港高铁深圳北站
20线11站台,两个高架地铁站(高度为20m)与一个地下地铁站(高度为-18m)
西广场位于地面,站台为下沉式,轨道高度为-9m,东广场高度同样为-9m
注意:建造前请平整地形,并设置Station Depth为18,Station Angle为0
Shenzhen North Transport Hub by KEL
Shenzhen North Railway Station is a key station on the Guangzhou-Shenzhen-Hong Kong Express Rail Link, it has 11 platforms and 20 lines for high speed trains, two elevated metro stations(one under construction) at a height of 20m as well as an metro station 18m underground. The West Square of the Station is at ground level, while all the train platforms are sunken. Elevation of the rails and the East Square of the Station is set to be -9m.
Attention, before you place this train station it is necessary to flatten the terrain and set Station Depth to 18m in Metro Overhaul options UI.