Liebermann Haus & Commerzbank Haus : Pariser Platz | Berlin, Germany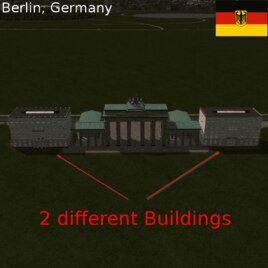 Description:
THE MIRRORING ISSUE IS FIXED Building is now 1:1
The two Buildings from Pariser Place next to the Brandenburger Tor.
Contains night lights but i forgot to take screenshots of it. sry
Could be used as an Embassy Building just put some flag on it.
Actually they are the same Building but with minor changes. (Like the Backyard entrance, the roof or just the house numbers)
[FIXED] I mirrored them in Blender but seems like it doesn´t export the Building mirrored.
If you use FindIt mod type: LMB
ALSO: BOTH BUILDINGS USE THE SAME TEXTURES SO IT SHOULD BE ABOUT 9 MB IF YOU USE LOADING SCREENMOD
Liebermann Haus:
Tris: 2730 | 1024 x 4096
Commerzbank Haus:
Tris: 3418 | 1024 x 4096
_d, _i, _s, _a, _n
Tags: Deutschland, Europa, Europe, European, Botschaft
Commerzbank & Liebermann Haus Berlin LBM by Toyota Hilux