Euro House Set O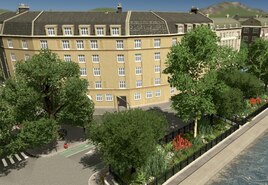 Author:
Lennep
Last revision:
11 Apr at 21:41 UTC
Description:
Set of 5 buildings based on a residential building from the in-game Euro tile set. Level 3 Res HD
Includes:
135 degree corner
225 degree corner
2 x row house variations
Left end piece
This enables you to avoid too many blank walls at the end of your rows, and create seamless rows around corners.
You will definitely need MoveIt to align the buildings properly.
All the assets share the same textures, so if you use the Loading Screen mod these will only be loaded once, saving you RAM. Includes c/d/i/n/s maps. Game-generated LODs (the LOD for the 225 degree building is a little off unfortunately).