Ninja's 2019 January – April Civilian Props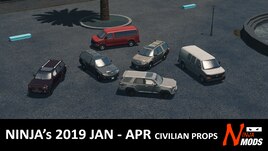 Description:
Prop Versions of the Expedition, Expresses, and 4Runner are here
[www.paypal.com]
Information
This is the props pack for my civilian vehicles released between January and April of 2019. This release features the new Chevrolet Express Passenger and Cargo Van Prop models.
Props are located in the COMMON Category. Use the Prop And Tree Anarchy Mod to place anywhere. Anarchy should be always on if you don't want to lose your props after you save.
If you want individual props, go to your SteamLibrarysteamappsworkshopcontent255710 and find the folder with the corresponding Steam ID (1707541125) and delete the ones you don't want from the directory.
Use BOTH the Move It Mod and Prop Snapping Mod with the option "Allow Prop to Submerge" enabled to move it to road height!
Use the Find It mod, to help find my props. They have additional keywords now.
Vehicle versions in links below!
2019 Chevrolet Express Cargo Van
2019 Chevrolet Express Passenger Van
2018 Toyota 4Runner
2010 Ford Expedition Single Color SUV
2010 Ford Expedition Two Toned SUV