[TAXI] Black 2011 Ford Expedition Limousine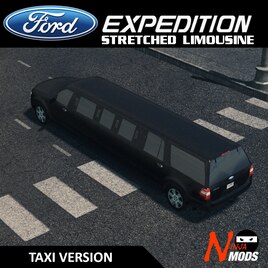 Description:
Classic Stretched Ford SUV Limousine in Black For Picking Up Clients
A stretched limousine gives your celebrities and high school prom queens a special feeling of priviledge and class. Add in Americans' preference for longer vehicles and you end up with this gigantic Ford Limousine SUV. But hey, at least it can carry the prom queen and her entourage on her way to the dance.
This is the black taxi version. For those more conservative prom queens.
Use Service Vehicle Selector to set limo vehicles for your taxi depots.
Other Versions
[www.paypal.com]
Model Information
2918 Tris
Textures 1024 x 1024
Model obtained by CelsiuZ. Initial optimization by me. Further optimization by CelsiuZ. Texture by CelsiuZ with extension to limo size and retexturing for longer chassis by me.
All stats are the same as the default taxi. Use Advanced Vehicle Options Mod to change it to fit your needs.