Modern Dutch Row Houses 3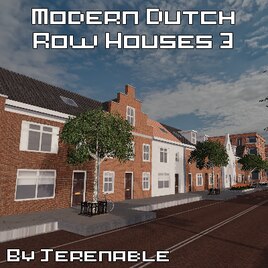 Author:
Jerenable
Last revision:
13 Apr at 21:54 UTC
Description:
Modern Dutch Row Houses 3
Yo jenner back with the Dutch shyete.
Dis iz wqagt yoall been waieten fur.
Terracota brick is red.
Clear skys are blue.
This is way to much houses and your RAM thinks so too.
The pack includes 26 – 1 houses and 25 props.
Table of contents
A bit darker red brick houses
yes
More LOD's than Armestos workshop content
yes
Building with alleyway
yes
Garages in all three colours
yes
Dormers and solarpanels
yes
But really these houses are not for plebs they only work by individually placing them, THEY DONT CONFORM TO THE GRID. If you dont like this well, II'm ok with that I'll still remove the comment tho.
You can donate if you want to support me [www.paypal.com]
I am now on active on Patreon[www.patreon.com]