Tram: DSW 400 Series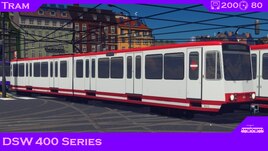 Description:
The B100S imported to Dortmund from Bonn, when the latter put its K5000 into service.
This mod contains the 400 series as a single trainset for your tram lines.
Data
whole train:
Vmax: 80 km/h
Capacity: 200 pax
Tris: 3198 (LOD: 220)
Textures: 1024×1024 DISC, 512×512 DISC

If you like this mod (or any mod in fact), us content creators would be very thankful if you gave it a thumbs up. It really makes a difference!
Want more?
Tags: DSW DSW21 Dortmund Germany Deutschland Bahn train Zug Stadtbahn tram B-Wagen