Bennelong Point Quay and Decal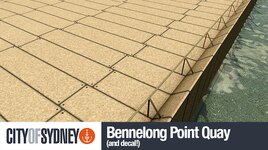 Author:
Robert
Last revision:
11 Jun at 08:44 UTC
Description:
This is a custom quay and decal for those who are interested in recreating the appearance of Bennelong Point, in Sydney, for whatever reason.
The decal is 24x24m and uses a 256×1024 texture
The quay is 1,592 tris with a 2048×256 texture (184 tris in the LOD). WIthout network tiling it will look busted and stupid. This mod helped keep the texture size nice and slim!
The tiling on the quay will line up with the decal perfectly if the segment is 64m (8 squares). It will retain the pattern as best as it can if its less or more. Alternatively you can just place the decal over the top of it.