Swiss track D2 (E-Sta_NP)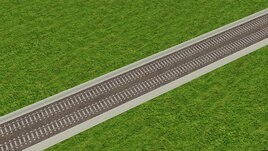 Author:
ron_fu-ta
Last revision:
11 May at 06:26 UTC
Description:
高架複線、架線柱なし駅レール
Elevated double track, No catenary pillar station rail.
高架駅用のレールです。既存の駅レールの置き換えやアセットエディタでご使用ください。
スクリーンショットは使用例です。置き換えはご自身で行ってください。
This is elevated station rail. Please use the station rail replacement or asset editor.
Screenshots are examples of usage. Please replace by yourself.
<Recommend MOD>
ゲーム中に既存の駅レールを変更できます。You can replace station track in the game.
Touch This! Tool 2.0.2
https://steamcommunity.com/sharedfiles/filedetails/?id=1393797695