Austrian Vineyard Heuriger Müller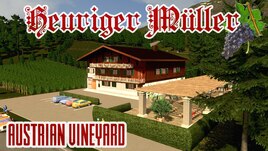 Description:
Update – fixed balcony thanks to SvenBerlin!, new windows, worked illumination map- *All images except update comparison show pre-update building. It had white showing on its balcony. Looks much better now.
Heuriger is the name given to a tavern in Eastern Austria, where a local winemaker serves his or her new wine under a special licence in alternate months during the growing season. The Heurige are renowned for their atmosphere of Gemütlichkeit shared among a throng enjoying young wine, simple food, and – in some places – Schrammelmusik. They correspond to the Straußwirtschaften in the German Rheinland, the Frasche in Friuli-Venezia Giulia, and Osmiza in Slovenia.
Heuriger is the abbreviation of "heuriger Wein" (this year's wine) in Austrian and Bavarian German. Originally, it was a simple open-air tavern on the premises of winemakers, where people would bring along food and drink the new wine. Nowadays, the taverns are often situated at a distance of the wineyards and offer both food and drinks. Heurige where apple or pear cider is served are called a Mostheurige. In the well-known wine-growing areas of the city of Vienna (Grinzing, Sievering, Neustift, Liesing) many eating establishments have a rustic interior design similar to Heurige, yet they have a normal licence and sell wine they buy from outside sources.
__________
Model file stats in image above
Many thanks to the other creators whose Vineyard creations come together to make this asset:
– Tomcat for the 4×4 traditional Chalet. I made some changes to the texture so it looks more like a house and tavern, added ivy and name, etc. texture is 1024×1024
– MrMaison for the arbor and the Norway Spruce
– Pdelmo for the prop vineyard wine field.
And thanks to Lost_Gecko for yet another indispensable beautification item, the hedges!
This is a park because 1) I want to place more than one 2) Heurigers attract throngs of tourists 3) it allows those of you who use RICO to make a local RICO copy easily, without having to convert from growable to ploppable.