Hotel Seilet + Svømmehall (ploppable RICO ready)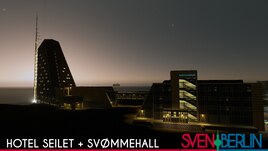 Author:
SvenBerlin
Last revision:
17 Jul at 08:36 UTC
Description:
Hotel Seilet + Svømmehall by SvenBerlin
File size a little bit more than normal but I used bigger texture maps.
This is a replica of a hotel and an indoor swimming pool, located in Molde Norway.
12 X 20 cells
Hotel Seilet tris 3695 LOD 226 texture a,d,i,s 2048*2048
Svømmehall tris 4253 LOD 121 texture d,i,s 1536*1536
File size must be okay, because you will place it only one time in one city I think .
Ploppable RICO= comercial high, level 1, cost 120.000, workers 140
https://www.google.de/maps/place/Scandic+Seilet/@62.7330361,7.147714,226a,35y,270h,39.46t/data=!3m1!1e3!4m8!3m7!1s0x461154040063fb55:0xe5eb5a87d40e8487!5m2!4m1!1i2!8m2!3d62.733196!4d7.1439271