Stately Homes: Osborne House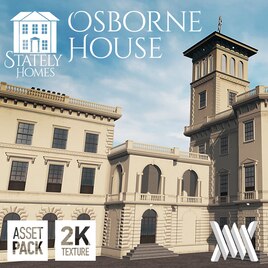 Description:
Stately Homes: Osborne House
This grand house is situated on the Isle of Wight off the South coast of the United Kingdom and is the first in my new 'Stately Homes' series. This house was chosen to be the first as it forms part of the 'Isle of Wight' YouTube series created by PugGaming. I would like to thank PugGaming for testing and inspiring me to create such a demanding asset.
History
Osborne House is a former royal residence in East Cowes, Isle of Wight, United Kingdom. The house was built between 1845 and 1851 for Queen Victoria and Prince Albert as a summer home and rural retreat. Prince Albert designed the house himself in the style of an Italian Renaissance palazzo.
Osborne House is under the care of English Heritage and is open to the public.
Details
The main building is split into a number of building and ground sections.
To recreate the tiered gardens and different ground levels I have used flat 1D building sections to control the ground height. This isn't perfect but works well if a large area of land is flattened to the same height and the house plopped in the middle. The included 'Red Gravel' decal is added to the main asset but some additional decals may be needed once plopped as the ground doesn't always behave itself in game.
Note: Decals cannot be added to the red gravel ground areas as they are effectively flat 1D buildings. Other props can be added, but may need to be moved up with 'Move It' if the ground below is lower.
The pack contains:
1. Osborne House main building.
2. Decal: Red Gravel
3. Prop: Balustrade
4. Prop: Balustrade Slope Long
5. Prop: Balustrade Slope Short
6. Prop: Balustrade Pillar
7. Prop: Balustrade Cap
8. Prop: Stone Steps
9. Prop: Plain Wall
10. Prop: Ridged Wall
11. Prop: Ornamental Vase
House Geometry
Model: 50,609 tris
LOD: 639 tris
Model texture: 2048 x 2048
LOD texture: 512 x 256
Prop Geometry (combined)
Model: 608 tris
LOD: 120 tris
Model texture: 1024 x 1024
LOD texture: 512 x 512
The tri-count is high and the textures large, but I think it's worth it. Just don't plop more than one!
All files in this pack use the same naming structure to speed up 'Find It' searches.
SH (for all stately home assets)
OH (Osborne House, obviously)
P (props)
D (decal)
So, for example, a search for 'SH OH P' will find all the props.
The only exception is the main house which is named 'SH Osborne House' for clarity.
The separate sections that make up the house will appear in searches (not in the menus) but the main 'SH Osborne House' is the one to plop.
All house sections share textures, as do all props, so if you use the Loading Screen mod the textures will be shared by all the elements and this will reduce any load on your machine.
I will be adding new houses as and when I am able, so keep checking for updates.
Available houses
1. Osborne House
2. Little Morton House (coming soon)
Please try this pack out and let me know how it works for you. If there are any problems let me know in the comments below.
––––––––––––––––––––––––––––––––––––––––––––––––––––
PLEASE RATE MY ASSETS IF YOU LIKE THEM. THANK YOU!
––––––––––––––––––––––––––––––––––––––––––––––––––––
If you really, really like my assets please consider making a donation. I'm unable to work because of ill health and do this because I love the positive feedback I get from so many people.
PayPal
[paypal.me]