European Curtain Side Trailer Pack 2 – Mercedes-Benz Actros 6×4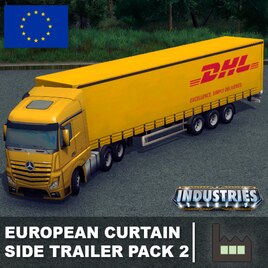 Author:
Konkku
Last revision:
13 Jul at 12:35 UTC
Description:
This package contains an MB Actros 6×4 truck with five different trailers from European transportation companies. The companies are DHL, UPS, DB Schenker, Postnord and Bring. The trailer type is a very common european curtain side trailer which is around 14m long, 2.5m wide and 4m tall.
Truck – Mercedes-Benz Actros 6×4
Type: Delivery Truck which means it will transport luxury goods to and from warehouses.
Capacity: 25000
Model: 1212 Tris
Textures: 512×512 _d, _s, _n, _c, _i
LOD: 64 Tris, 64×64 textures
All trailer variations share the same truck, only the colour variations change.
Trailer – Curtain side trailer with landing gear up
Model: 808 Tris
Textures: 1024×512 _d, _s, _n, _c, _i
LOD: 46 Tris, 128×64 textures
I recommend using the Loading Screen Mod.
Prop versions:
Mercedes-Benz Actros 6×4 – Prop
European Curtain Side Trailer Prop Pack 2
Credits to DANZ | D3S DESIGN® as some parts of the truck are from his D3S Mercedes-Benz Actros MP IV '2011. The trailer is Underneath its jaijai's Delivery Truck (Semi-Trailer) which I heavily modified.