16m height JP1L JP2L Elevated station module V2 set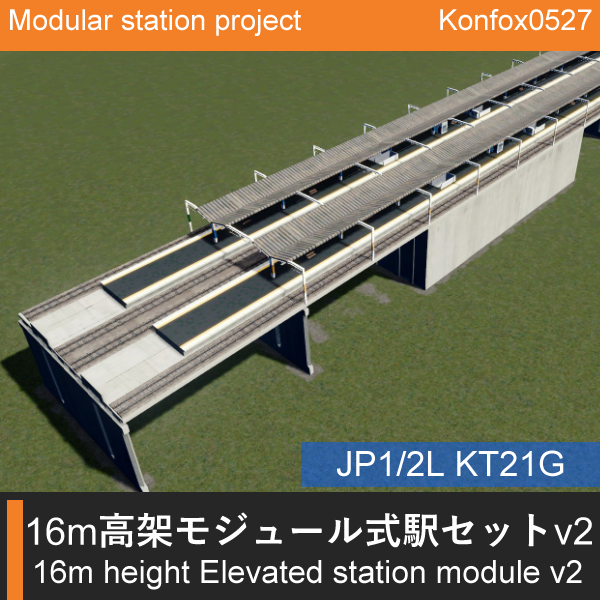 Description:
16m高架駅モジュールJP1L JP2L V2 セット
注意 / Attention
-Fine road anarchyを作動させてから設置してください。
-JP1L station track KT21とJP2L staion track KT21を必ずサブスクライブしてください。
-ED3及びED3Xの拡張タイルが発生しなくなってます。お手数ですがMoveItで動かしてくるか建設用道路を使って建ててください。
-Please use Fine road anarchy in build this station.
-Please Must use JP1L station track KT21 & JP2L staion track KT21
-ED3 and ED3X expansion tiles are not generated. Please Move it! or build module using a construction road.
概要 Overview
自由に組み合わせて使えるモジュール式の駅です。
線路を新型KTトラックを使用します。旧版とはホームのかさ上げ以外は特に変更点はないです。
旧版とは別のアセットになっています。置き換えは自力でお願いします。
6つのアセットが入っています。
This is modular station that can be used in combination.
This is New KT track version. There is no change the 3d mesh without platform height.
It is asset different from the previous version. Please replace old station yourself.
Contains 6 assets.
EB3=/16
EB3=X/16
EC3/16
EC3X/16
ED3/16
ED3X/16
Modular station user guide
https://steamcommunity.com/sharedfiles/filedetails/?id=1457552317
Download
Revisions:
Old revisions of this mod are available below. Click the link to download.