Necorea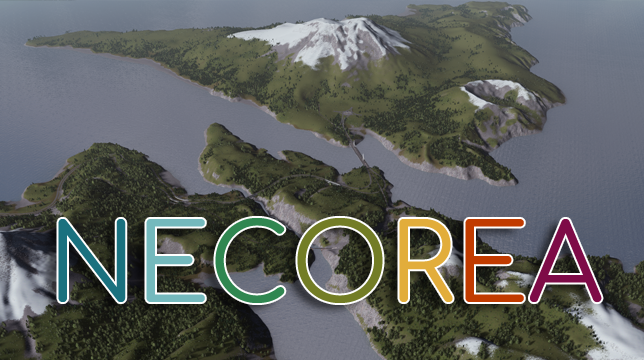 Description:
PLEASE READ: Theme is NOT included in the above collection. See below.
Introduction
Every city builder seems to have at least one utopian island, and Necorea is mine. I had the island's name as early as 2nd grade, and first brought it to the digital world with SimCity 3000. For this update, I tried to be as faithful as possible to the original, while bringing it to life with contemporary detailing standards. I also added a mainland to accomodate a Skyline's road connection requirement.
Necorea is uncompromising with its steep slopes and cliffs. I usually throw more bones to gameplay, but Necorea was never intended to accomodate a vast sprawl, so you'll have to enjoy hills to enjoy this map. I didn't base the fictional terrain on any one place in particular, but you may see resemblences to northern Europe or the Puget Sound.
I have several more urban minded maps on the way for those who like room to build.
Theme
This map is built with Perchta theme in mind, which you can access as a patron to Hadece[www.patreon.com]. This theme will give you the best results, since I painted textures using Perchta's blending. It's a beautiful theme and totally worth it.
But if that's not an option for you, I've found that Rockyshore has similar blending parameters. You can certainly experiment with other themes as well, but you may want to repaint the resources if you do.
Features
* Snowcapped peaks with the Perchta theme.
* Realistic road and rail grades.
* Road, rail, and shipping connections don't cross the map, so you won't get any intercity "dummy" traffic.
* About 200k trees; more than my last few maps, but still 50k under the vanilla limit.
* Optimized for small cities and advanced/modded play.
Recommendations
* I'm using Daylight Classic, the Bonita Vista Valley LUT, and the HDRI Haven Cubemap Pack. I haven't tried out many LUTs with this one yet, so I encourage you to experiment with different lighting settings.
* If you're using Prop Snapping, I recommend disabling it the first time you load the map, or the roundabout spotlights will float. Or you can use MoveIt to align/remove them.
* Tree LOD Fix, Random Tree Rotation, and Sharp Textures will all help the trees pop.