Arrowhead Junction (Official Savegame)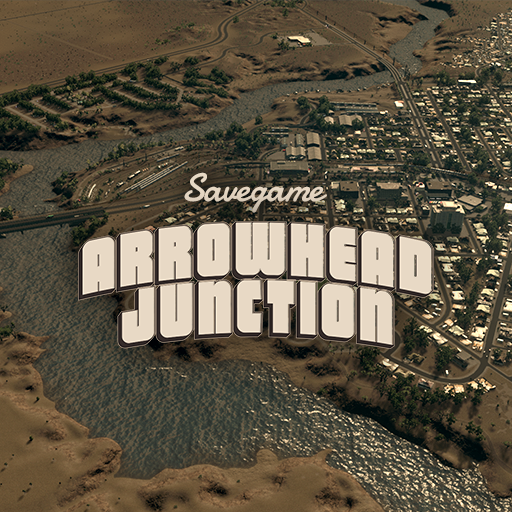 Description:
Read me. No, seriously!
In order for this savegame to work on your computer you will need:
At least 16-24gb of RAM to load all of the custom assets and mods. Using LoadingScreenMod is a good way to see how much RAM the assets require.
Subscribe to every mod/asset in the official collection, Flux's Picks and Strict's Picks collections.
Manually download the "Building Themes" and "Local RICO" settings files from http://strictoaster.com (Scroll to the bottom of the page for the links and follow the instructions in the Readme.tx. Make sure to BACKUP YOUR EXISTING SETTINGS FIRST).
I'm not 100% sure, but I think you will also need the Snowfall and/or After Dark DLCs.
I got "X" error and the savegame doesn't work, what can I do?
First make sure you meet the minimum RAM requirements listed above, then make sure you are subscribed to all of the assets/mods in all 3 collections (remember to enable them in the "Content Manager") and nothing else, meaning, unsub to anything that is not in those collections, also copy the settings files in their right folder locations.
Finally, check that you have either the Snowfall and/or After Dark DLCs enabled.
If after all of that you still have issues feel free to post questions below or create a "Discussion".
I'm also pretty active on Twitter if you want answers faster: @Strictoaster
Can I post screenshots/make videos of Arrowhead Junction?
Absolutely! If you make videos be sure to link back to the series playlist and our channels.
More About Arrowhead Junction