Wiraya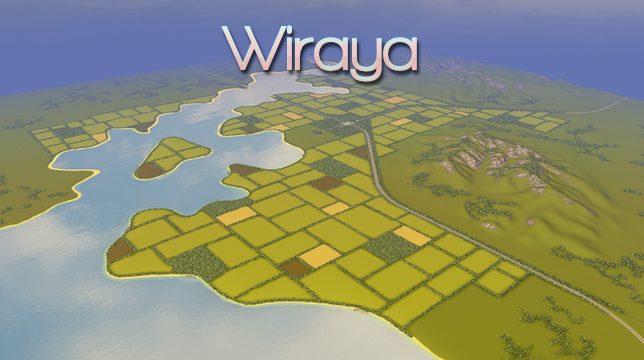 Description:
Wiraya
Salut
J'espère qu'il y aura des industries car cette carte est faite pour vous !
C'est tres symple y a beaucoup de ressources et c'est vos idées qui vont devoir gérée ses possibilité !
Je remercie Paradox @Cities_PDX pour ce superbe DLC Industries !
ça vas me donnés des idées !
Pour une nouvelle map !!!
Mes autres cartes -> https://steamcommunity.com/workshop/filedetails/?id=1210946012
Hi
I hope there will be industries because this Map is for you!
It's very nice there are a lot of resources and it's your ideas that will have to manage its possibilities!
thank Paradox @Cities_PDX for this superb DLC Industries!
it will give me ideas !
For a new map !!!
My other Map -> https://steamcommunity.com/workshop/filedetails/?id=1210946012
Tree:
Tree Leafy —> https://steamcommunity.com/sharedfiles/filedetails/?id=1225368249&searchtext=leafy
Leafy tree by pdelmo —> https://steamcommunity.com/sharedfiles/filedetails/?id=898243879&searchtext=leafy+MMMM
Poplar tree —> https://steamcommunity.com/sharedfiles/filedetails/?id=663045463&searchtext=+poplar
Mod:
Unlimited Trees -> https://steamcommunity.com/sharedfiles/filedetails/?id=455403039&searchtext=unlimited+tree
Theme Vice Land -> https://steamcommunity.com/sharedfiles/filedetails/?id=1397288241&searchtext=vice+land+
LUT = SpitfireLUT —> https://steamcommunity.com/sharedfiles/filedetails/?id=621219862&searchtext=spitfire
Daylight Classic -> https://steamcommunity.com/sharedfiles/filedetails/?id=530871278&searchtext=Daylight
Clouds & Fog Toggler -> https://steamcommunity.com/sharedfiles/filedetails/?id=523824395&searchtext=Clouds+%26amp%3B+fog