Khovrino hospital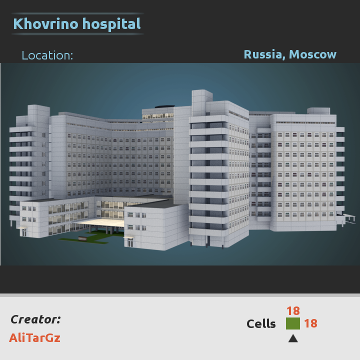 Description:
UPDATE! I fixed the "not found asset name" error
===================
Hello, my dear subscribers and all fans of Cities: Skylines! :))
For a long time I did not upload anything new to the workshop. And so, after a long time, I finally found the time and completed this legendary abandonment as a working hospital.
This is Khovrino hospital. The building was never completed and it was abandoned for almost 40 years. And exactly a year ago, the building was finally demolished. Located in Moscow.
————————————–
The building itself consists of two clinics, one crematorium, one hospital, as well as three courtyards.
Attention!
This asset is quite large, and consists of several buildings, so the number of triangles is slightly more than 25520.
For this asset you needs road connections on all 3 sides, how it looks on screenshots
Don't forget to subscribe to this asset:
https://steamcommunity.com/sharedfiles/filedetails/?id=1926823257
————————————–
Some boring technical info:
Asset Size: 18×18.
Electricity 90
Gameplay common
Construction Cost 12240
Fire Hazard 0
Fire tolerance 0
Garbage Accum. 0
Maintenance Cost 320 + 120 + 120 + 120
————————————–
I recommend using these mods:
Download
Revisions:
Old revisions of this mod are available below. Click the link to download.