Full Y Interchange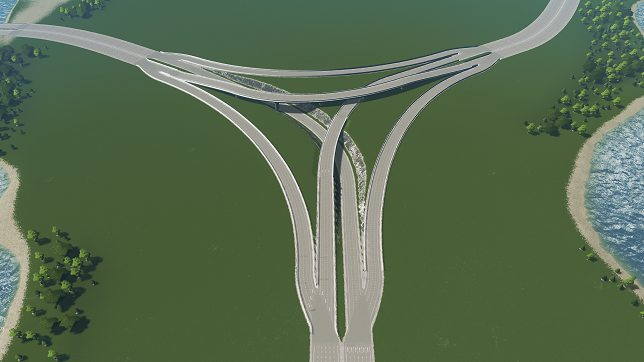 Description:
Full Y Interchange:
Similar in nature to the Full Diamond, the Full Y is designed with maximum throughput in mind. With its 120 degree approach angles, direct ramps, and gentle curvature, it is the absolute fastest 3-way interchange in existence.
Advantages:
Minimizes or eliminates the need for vehicles to slow down as they pass thru the interchange
Minimizes weaving as splits are symmetrical across the lanes of traffic
Direct ramps
Disadvantages:
Requires more land to build than a Trumpet and other 3-way interchanges
Like the Full Diamond, merging in the destination freeway's 'fast lane' is less safe
This Asset:
Smooth curvature for aesthetics and maximum speed
Perfect 120 degree angles between incoming freeways
Perfect 'lane mathematics'
Incoming freeway carriageways are spaced at 32 units for those using the Parallel Road Tool mod
Twitch Stream "Advanced Freeways"
https://www.twitch.tv/cash_the_great/