Renaud apartments 4762 2nd av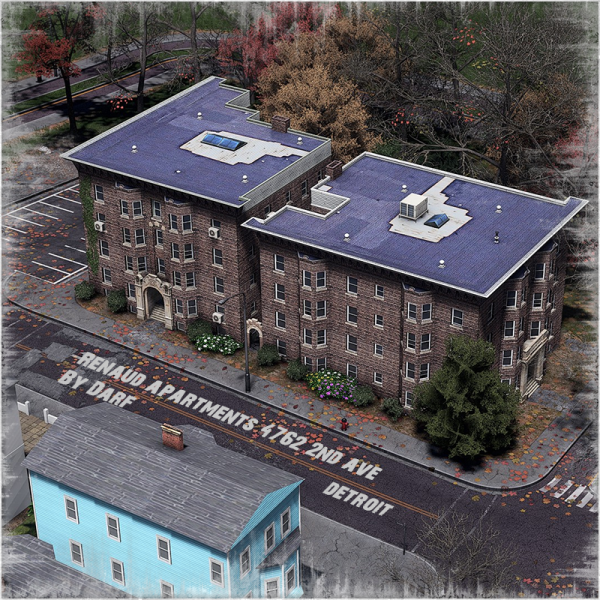 Description:
Please leave a vote or comment if you download this asset! This is a pack which contains a lvl 4 and 5 Low residentiial apartment and a gate prop.
Become a Patron and support my work!

[www.patreon.com]
If you want to see new releases and upcoming work visit my patreon page

[www.patreon.com]
About the model
A set of 2 apartments which share textures and a gate prop to use for alleyways. Both are colormapped. I felt these old, lower density apartments are lacking from the workshop and they had some really nice details so.. here they are.
These models have a 2048×512 texture and the prop has a 256×128 texture. The building has about 2700 tris and a lod texture of 512×128 and lod model of 130 tris. Normal mapped, alpha, illumination and specularmapped.
You can always follow my assetcreations on the Simtropolis forums: http://community.simtropolis.com/forums/topic/68841-darfs-buildings-the-dorilton-new-victory-theater/ or on sketchfab: https://sketchfab.com/sannie01
RICO
This building is RICO ready, enable it in the settings menu.
About the building
The Renaud was built as a sixteen unit building in 1903 and designed by the firm of Baxter & O'Dell. The structure was commissioned by Dr. George Renaud, a local throat specialist. The Renaud is done in dark brick with Renaisssance Revival overtones.It has a classicallly inspired entrance at the Second Avenue side of the building.
Changes
– Added a 3rd variant with an added floor, different shape a the first 2 floors are done in stone.
Download
Revisions:
Old revisions of this mod are available below. Click the link to download.