Railway Ponte Suebia Stone Arch Bridge (Wireless)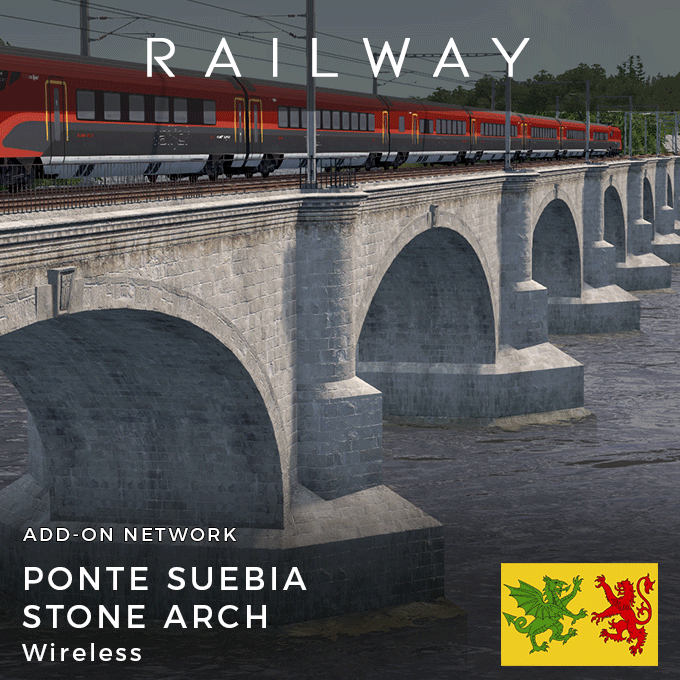 Description:
Galiza, Spain
Part of Railway project
Track Specifications
Network Type
Track Type
Noded / Nodeless
Wired / Wireless
2 Lane 2 Way
Concrete Tie – Theme Gravel
Nodeless
Wireless
Track Content
Basic Segment
Elevated Segment
Bridge Segment
Slope Segment
Tunnel Segment
Standard
Stone Wall
Stone Arch
None
None
Network Features
Operational Speed: 120kmph
TEXTURE SHARE: Superstructure is based on RWY. If LSM is enabled, RAM use should be minimal.
Railway and Network Skins 2
You can use both or either of the mods to use the bridge. With Railway catenary selection is global, whereas catenary style can be customized per segment with Network Skins 2.
Acknowledgements
Recommended Mods
Road Anarchy: You know what it does.
Move It: In order to tweak or align the bridge properly.
Fine Road Anarchy: In order to switch different segment types such as elevated or bridge segment.
Keywords for Workshop search: Railway, REV0, Armesto, Ponte, Suebia, Galiza, Spain, Stone, Arch, Bridge