Bridge building station JP2L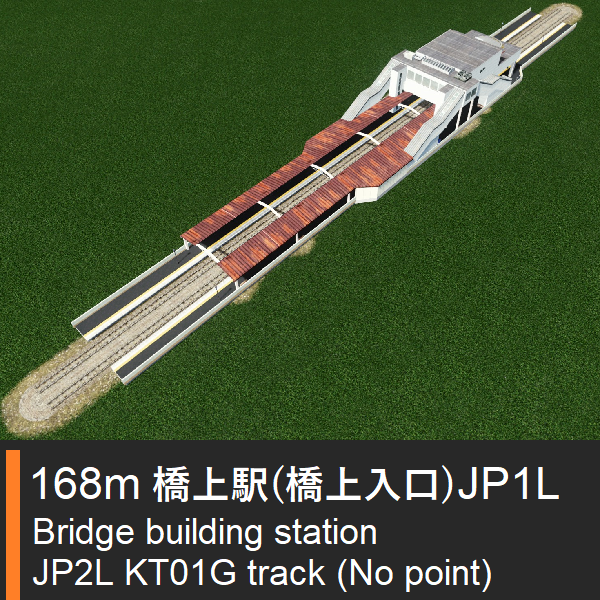 Description:
橋上駅(橋上入口)JP2L
–橋上駅(橋上入口)のJP1L station track KT01G版です。
入口が橋上にある駅です。プラットホームの有効長は168mまで対応しています。
道路に関係なく自由な位置に設置できる駅です。2セル道路を接続して使用してください。
Fine Road Anarchyを作動させてから設置してください。
Move it で動かすの禁止。 Move It!を使用した際にソフトが停止する可能性あり。
–Bridge building station's
JP2L station track KT01G version.
The station has an entrance on the bridge and two 168m platforms.
It can be built freely. But you need to connect the station with 2 cell road above.
You need Fine Road Anarchy to use this station properly.
Don't move the station by using Move It!. It may lead to game crush!
Train can stop in 168m platform. (If it real size. Please check yourself.)
11cars– default train,
10 cars(16m car)– NYC subway A division,
9 cars(18m car)– 京急(Keikyu), 京阪(keihan),阪神(hanshin), NYC subway B division,
8 cars(20m car)– Japanese JR and other(without Shinkansen), British commuter train, Korail, 台鉄(Taiwan), Russian Metro, Электричка(Russian commuter),
6 cars(~26m car)– EU and US typical cars, Russia railways, China railways and CRH, Shinkansen,Taiwan MRT, Singapore MRT,
M+6T+M(8cars)– TGV,
texture:1024×2048, tris:4533,
lod texture:128×256, lod tris:98,