Lumber Yard (Warehouse)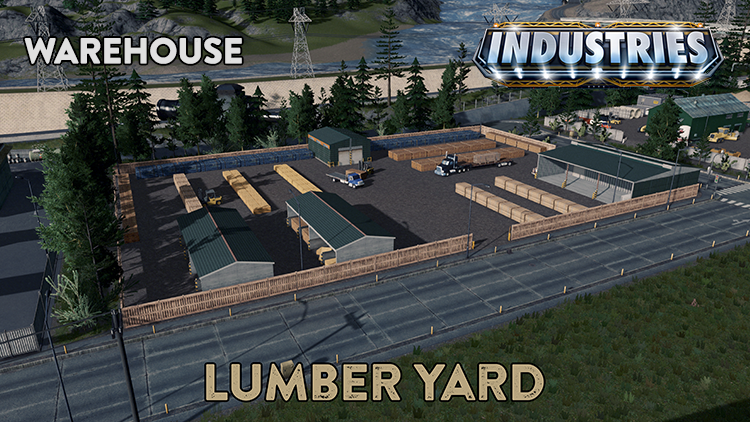 Description:
Lumber Yard (Warehouse)
The Lumber Yard stores products from the forestry industry for use in local construction projects.
Useful for storing Planed Timber or Zoned Industry – Forest Products. Found in Garbage & Industry > Warehouses.
Re-released as an Industries DLC warehouse after pcfantasty updated the Real Construction mod to fix UI for warehouses and unique factories, allowing them to function properly as resource generators.
_________________________
Designed for additional Real Construction mod functionality, but not required. Uses zoned industry goods from forestry and ore to generate Construction Resources, which are required by buildings to finish construction and to complete non-historical level-ups. If none are produced locally, it will import from out of town.
(Set to Construction Resources only in Real Construction UI; otherwise it produces both Construction and Operation resources. Unfortunately, there's currently no way to make a Construction Resource building use specifically lumber or ore only, so it uses both. See Paving Depot for ore themed option.)
No electricity, water, sewage or garbage required as this is intended to be constructed before you can zone any residential or build any service buildings, as those require Construction Resources to build with the mod.
For more info, check out my Real Construction mod guide.
_____________________
Sub-buildings used are from Baboon Lumber Company collection by Accapulco.
All required props for this and other Real Construction assets are available in my collection linked at the top.