Höegh Trotter (static model)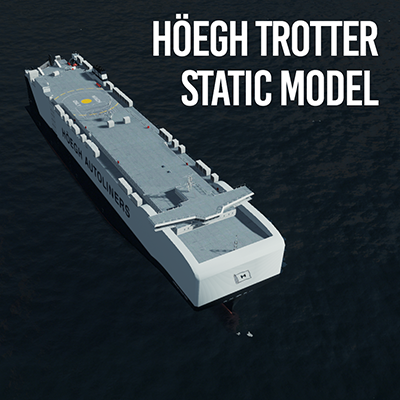 Description:
A cargo ship designed to carry vehicles. This asset contains two models, one with ramps up and other with ramps down.
Background
Höegh Trotter is a ro-ro vehicle carrier, operated by Höegh Autoliners. Höegh Trotter is one of the largest ships of its kind; this ship can carry 8500 CEU (car-equivalent units). The ship can carry also other cargo that is transported on (specialised) trailers like for example trams, wind turbine wings or mining equipment.
The WINCH ONLY text on deck means that the area is clear for helicopter winch operations; a helicopter should not land on the deck.
Gameplay
This asset contains two models: one with ramps down and the other with ramps up. Both models can be found in Transport menu under Ship tab
These assets have no stats, they are used for decorative purposes only. You need to use Move It mod to adjust the position (otherwise the ship will be floating above water).
A functional cargo ship version and functional Industries DLC warehouse are also available as a separate assets.
Technical stats
The main textures are 1024 × 512 px. Lod textures are 256 × 256 px. The models have shared textures (also with the cargo ship version), use Loading Screen Mod to improve performance.
Tris, ramps up: 4200/660 (main/lod)
Tris, ramps down: 5700/630
If you use this asset in your city, I'd be happy to see some screenshots! I'll add the best shots to the asset page!