Cargo Harbour Train only template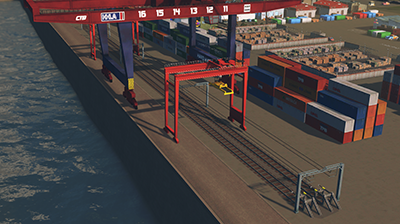 Description:
This is a working cargo harbour template for ship to train transfer only. No trucks are used. Road access for service vehicles is still required.
The railway is ground based and designed to sit behind a quay so you will need Move-it and anarchy mods to position and level.
There are no buildings in the template It is up to you to build what you want using other assets, it is your choice.
This template is ideal for experienced players, high level detailers and asset creators. I would not recommend them to new players.
The attached video shows this harbour in use with additional props and assets from the workshop.
I have been running this for some time with a lot of mods, DLCs, and assets without any issues. This does not imply that they do not exist. As always make sure you have backups of you cities before adding new items.
Enjoy