Contemporary Main Street with Bicycle Lanes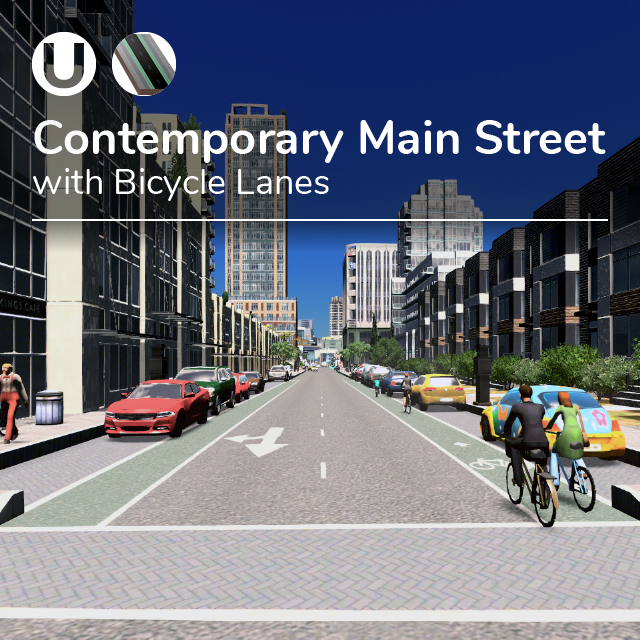 Description:
Get the variant without bicycle lanes too!
Contemporary main street with bicycle lanes ideal for downtown/uptown/midtown revitalization projects and redeveloped docklands districts.
Works best with wall-to-wall or street-facing buildings like the awesome Modern Condo collection by Smilies featured in the screenshots.
Inspired by Hay Street and Murray Street in Perth, Australia.
Map theme asphalt driving lanes, green bicycle lanes, and herringbone blue-grey brick parking spaces
Broken white line by default, change road name to enable continuous white line (rebuild road to revert to default)
Tiled concrete sidewalks with modern pedestrian-scale lighting
Accessible curb ramps with tactile pavement at pedestrian crossings
Curb extensions at junctions make for safer, shorter pedestrian crossings
Bus bulb with tree grates, benches and shelter (thanks to Clus – check out his awesome roads!) extends the curb to prioritize public transit over cars
Find in small roads category
Ground level only – use other roads for bridges and tunnels
16 m (2 tiles) wide, two-way, two lanes, speed limit 40 km/h
Compatible with Network Skins – but changing tree spacing will not change tree grate spacing
I make roads because I enjoy the work, and I don't expect anything in return, but if you like my work and want to support me, please consider making a small donation at PayPal[paypal.me]
Contemporary Main Street with Bicycle Lanes by Urbanist