UK Electrical Substation #1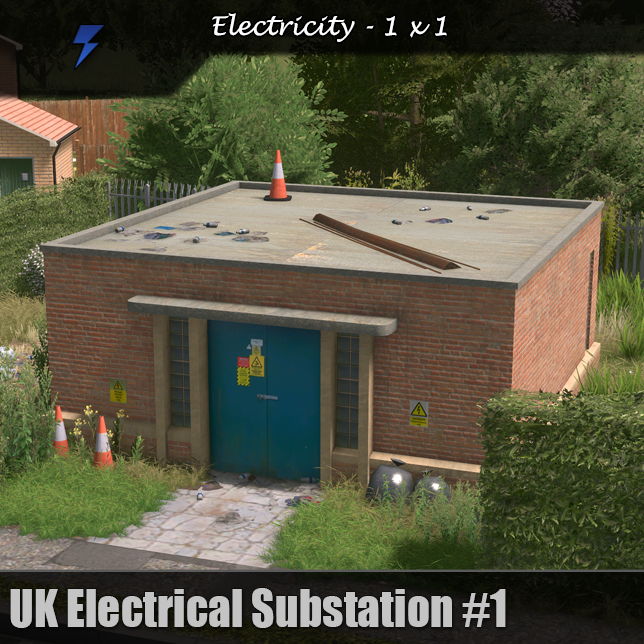 Description:
UK Electrical Substation #1

This is a small UK style electrical substation, these are often found around housing & industrial estates throughout the UK (well they are near me anyway). This is functional and works as an electricity source.

I have left the asset blank to give you more decorative freedom. The following mods are highly recommended to get the best out of these assets:

* Move It!
* Plop The Growables
* Find It
* Prop & Tree Anarchy
* Prop Precision
If you want to know how the screenshots were created then please subscribe and watch my new YouTube series 'Screenshotsville'
Building Stats

Size: 1×1
Service: Electricity
Where is this found in game?

This building is located in the Electricity category.

Do these assets require any props?

No, this is now up to you to decorate.

Model Info:

117 Polys
289 Tris
1024 x 1024 Texture res (diffuse, Normal, Specular,)
Custom LOD (30 tris)
Additional Info & Thanks:
I really hope you enjoy using these assets and i hope they are making your cities look a bit more UK like, If you do like them, it would be great if you could rate them up 🙂
Please follow me on Twitter , Instagram [www.instagram.com] & YouTube for updates on what i'm working on.
—————————-
If you're feeling generous and would like to make a donation then please use the link below. Any donation would be massively appreciated.
PayPal [www.paypal.com]
Thanks, enjoy the asset and enjoy the game 🙂