Brick McMansions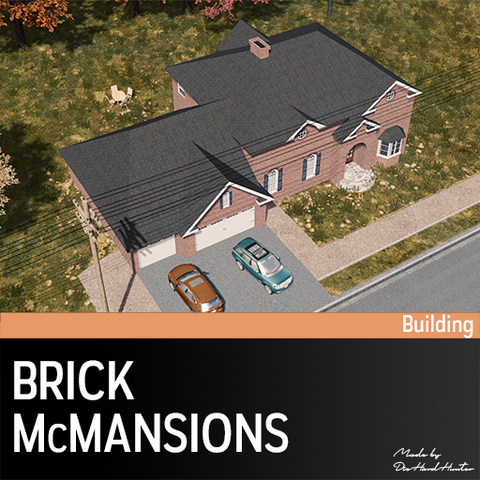 Description:
A miniset of two different variations of a brick McMansion.
The term "McMansion" is generally used to denote a new, or recent, multi-story house of no clear architectural style,[9] which prizes superficial appearance and sheer size over quality.
McMansion may either refer to oversized and cheaply built houses developed at once in a subdivision, or refer to a dwelling that replaces a smaller house, in a neighborhood of smaller houses, which seems far too large for its lot (such a McMansion may lack side windows due to the proximity to the boundaries—another McMansion-related cliché).
Source: Stephen A. Mouzon, Susan M. Henderson. "Traditional Construction Patterns".
Building
Tris: 3371
Textures: 1024×1024
Model info:
– Level 5 low residential
– wooden garage version uses color variations
– Custom LOD
A huge thank you to my friend @nikkoum who gave me some good real life reference from Chicago to make this.

If you want to support me with a donation, use the link below. Thanks!

[paypal.me]
Follow me on Patreon! Many advantages and early-access assets for my Patrons! Click the button below!

[www.patreon.com]
If you want to contact me for any reason (maybe you need a personal asset, or you just want to ask me something) write to me at [email protected]!

[gmail.com]
Enjoy it and for any issue or suggestion let me know in the comments section below.
And don't forget to rate the model, thanks!