Shibuya River Bank Prop Pack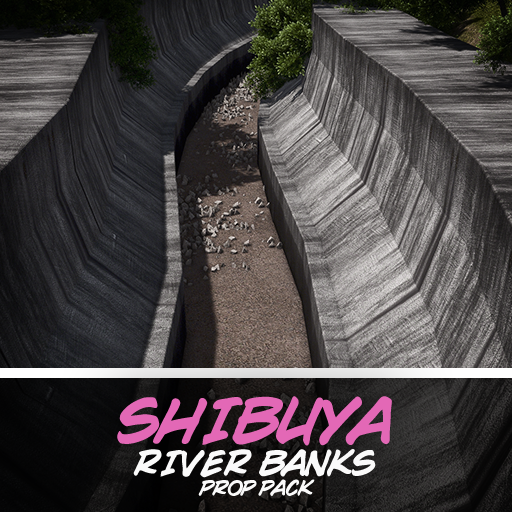 Description:
Welcome to my first ever Workshop asset!
As seen in episode 3 of the Atsuki YouTube series:
https://www.youtube.com/watch?v=yp6fkKzUG5I
Shibuya River Banks Prop Pack
Made for my first Cities Skylines YouTube series about the city of 'ATSUKI', which is a fictional realistic Japanese city inspired mostly by Tokyo. I wanted to recreate an area inspired by the Shibuya River in Shibuya, Tokyo, however I couldn't find anything on the Workshop that did the job. Long story short, over the past weeks I thought myself how to use Blender, how to make assets for Cities Skylines and this is the result, my first pack of props to recreate a scene similar to the Shibuya River. It was a bit of a headache troubleshooting all the issues, but I'm happy with how they turned out. I hope somebody else finds some use for them too.
The entire pack is just over 40MB in size, this is due to the fact that there are 12 props in total that come with the pack, which all use a 2048px by 1024px texture size. However, all the stained and all the mossy versions reuse the same texture, meaning that if you use the Loading Screen Mod it will save a bunch of RAM and only load those textures once. Loading Screen Mod is advised!
Shibuya River information:
The Shibuya River (渋谷川, Shibuya-gawa) is a river which flows through central Tokyo, Japan. The river is 2.6 km in length originating close to Shibuya Station and passing through Shibuya and Minato wards before merging with the Furu River near Hiroo and flowing into Tokyo Bay near Shiba Koen. The Shibuya River banks are predominantly unlandscaped; the major tributary of the river, the Onden River, originates in Sendagaya and passes largely unnoticed directly under Cat Street in the heart of Ura-Harajuku. The Onden River merges with the Uda River in central Shibuya forming the Shibuya River which then flows directly under Shibuya Station as a covered concrete drain.