Network detective (for debuggin mods)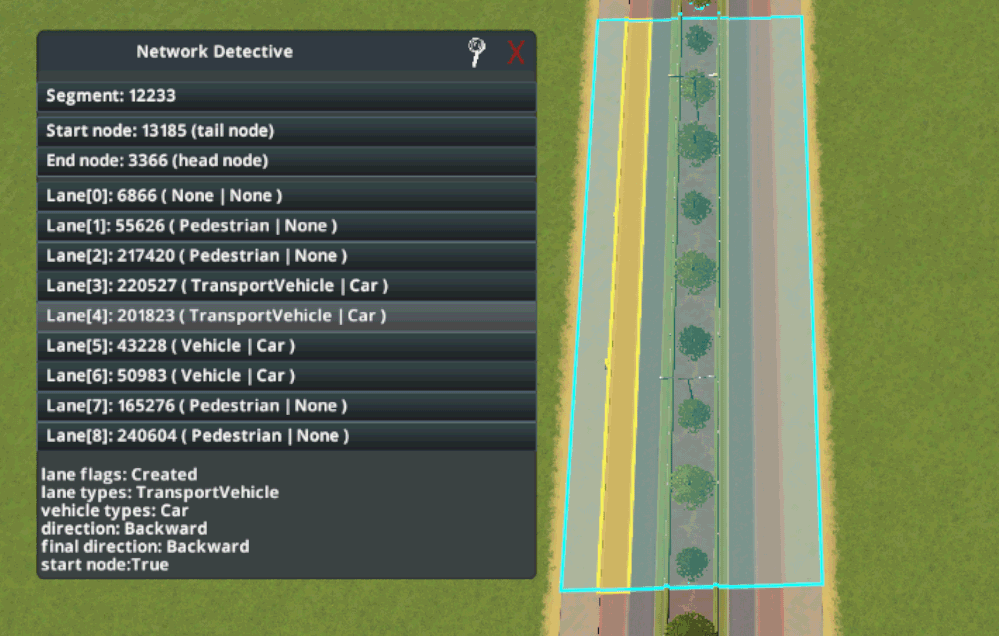 Description:
It shows information about placed network instances.
Objective:
help to develop/debug code (not to design assets – although it is useful for highlighing lanes).
Focus:
display important traffic-related information of networks.
NEW!:
go to a node/segment/lane by entering their ID.
Are you(modder) confused by the direction of the segments/lanes? do you find it confusing to deal with Invert flag, lane direction/finalDirection, left/right hand traffic, start/end node? This mod can help with that. I also created the concept of tail/head node (for a one-way road, cars go from tail to head) to make things simpler. feel free to pick up the code for GetHeadNode() and GetTailNode().
Instructions
– Control+D to activate (activation shortcut is configurable settings)
– Control+D or Right-click to deactivate
– Hover over segments to view info (hold control to view nodes).
– Click on networks to select them (Right-click to deselect).
– Hover over elements in the display panel to view quick information about them.
– Click elements in the display panel to select them and view in-depth information about them.
– To find a Network using its ID, click on the red search icon in the top left corner of the panel.
Source: